5 best work exchange programs – WWOOF, Helpstay and more
The saying "You can't buy happiness" is a bitter pill these days, with prices rising faster than the stars at night. It's particularly relevant when our wildest escape fantasies involve distant lands and unfamiliar cultures, leaving us with a financial gap between what we desire and what we can afford. But don't give up!
A creative way to break free from this financially constrained way of life is through work abroad programs. A great bonus of participating in these international exchanges is that you get to relish in the joys of exploring new cultures, even if your bank account doesn't look too good for an overseas holiday.
So, if you're thinking 'where do I start?' Fear not! We've done all the hard work for you and picked out the top five volunteer abroad programs to help make your journey as smooth as possible. Whether it's for a day, month or a year, these gems will have you packing your bags with just a few clicks of your mouse. From farm stays to fishing gigs – let the below lead you to where you want to go. Let's get exploring!
Helpstay
HelpX
Workaway
Worldpackers
Working travellers
Comparison of work exchange websites
Volunteer abroad program

Activity categories

Cost of membership

Membership validity

Area of operation

Helpstay

Animals & Environment
Backpacker Hostels & Hospitality
Building & Restoration Projects
Farming & Homesteads
Community
Betterment
Teaching & Language
Internships Abroad
Volunteering for Groups

42.99 – 51.99 Euros

1 year

100+ countries

HelpX

Organic farms,
farm stays,
hobby farms,
lifestyle blocks,
homestays,
ranches,
lodges,
backpackers hostels
sailing boats

Free

Premium: 20 Euros

1 year

Operates worldwide including in Australia, New Zealand, Canada and Europe including France.

Workaway

Organic farming and gardening
Animal care
Childcare and teaching
Housekeeping and maintenance work
Language exchange and cultural immersion
Hostel or guesthouse management
Artistic projects such as painting or music production
Sustainable building and construction
And more

USD 49 – 59

1 year

100+ countries around the world

Worldpackers

NGO
Eco Village
Non-Profit School
Farm Community
Permaculture project
Hostel
Inn
Camping
Guest House
Homestay
Holistic Center

USD 49 – 99

1 year

140+ countries around the world

Working travellers

small businesses owners,
non-profit organizations,

expatriate families.

Free

10 euro to 100 euro

1 year

50+ countries around the world

World Wide Opportunities on Organic Farms (WWOOF)

Organic farms and agriculture

Membership cost dependent on destination.

1 year

130+ countries around the world
Helpstay
Founded in February 2014, HelpStay celebrates people who aren't afraid to push their boundaries and go explore beyond their comfort zones. Whether it be through teaching English as a foreign language, exploring local culture, or any one of their many other initiatives, they've got everyone covered – no matter what kind of traveller you are.
Plus the team behind this initiative is made up of a globetrotting, dynamic group of seven distributed across Ireland, United States, Chile, Poland, Scotland and Albania. You bet these stoic nomads have plenty of tales to tell! But who says you're only allowed to listen in on their adventures? Hop onto HelpStay and become part of the story by connecting with hosts across the world.
Prices for this work abroad program membership start from 41.99 Euro per year.
HelpX
HelpX is an online platform for travellers looking to immerse themselves in their destination a little bit more by working in exchange for food and accommodation. Don't worry, you won't be working all day; only four short hours!
What's even better is that the tasks may be something you have never expected: From organic farming to living on a sailing boat, HelpX has something for everyone looking for new experiences to volunteer abroad. It's a unique cultural exchange opportunity to not only get free accommodation but also meet local people and learn first-hand about different cultures.
Register as a Volunteer Helper and choose between Free or Premier membership. Premier offers full access to host profiles and reviews, direct contact with potential hosts, and a self-description section to highlight your skills and experience for an appealing stay.
Workaway
Workaway is not your average work exchange program website. Instead, it's a unique platform that takes the idea of working on vacation to a whole new level. If you love the idea of trading hard work and chores instead of money, in exchange for nice accommodation, then Workaway is definitely something you should explore.
A great appeal of Workaway is that its fantastic variety allows people with any type of skill set or industry background to find an appropriate match. So if you're looking to teach English overseas, build houses, watch over pets, wield trowels, or anything else your heart desires – there's a match for you on Workaway! With tens of thousands of opportunities located all around the world, Workaway is like adventure vacation planning meets setting up a resume – what more could you ask for?
Worldpackers
Worldpackers is an absolutely indispensable work exchange program for the world traveller searching for amazing opportunities. It's easily the most adventurous way to explore a place and its culture since it allows users to actively engage in volunteer work for accommodation and sometimes a once-in-a-lifetime experience.
Unlike other websites that focus on job listings and financial transactions, this platform is unique in that it emphasizes the exchange of skills and cultural immersion for its members. There are also tons of hosts offering all kinds of options – from a private room in tropical paradise, to restoring greenhouses with the locals! With Worldpackers, traveling doesn't have to be expensive; pack your bags (and your skills), and get ready for the adventure of a lifetime!
Working travellers
Working travellers are people who want to combine their passion for travel with gaining work experience! For those looking to stay, explore and experience a new place, being a working traveller could be the ideal way to achieve this.
Working exchange websites offer travellers the opportunity to gain full-time experience while immersing in a different culture and seeing parts of the world they've always dreamt of. These experiences can be incredibly valuable and make searching for employment so much easier once they're back home.
So whether you're looking to develop business skills in London or learn Spanish in Barcelona – working exchange websites could be the perfect way to get you started!
World Wide Opportunities on Organic Farms (WWOOF)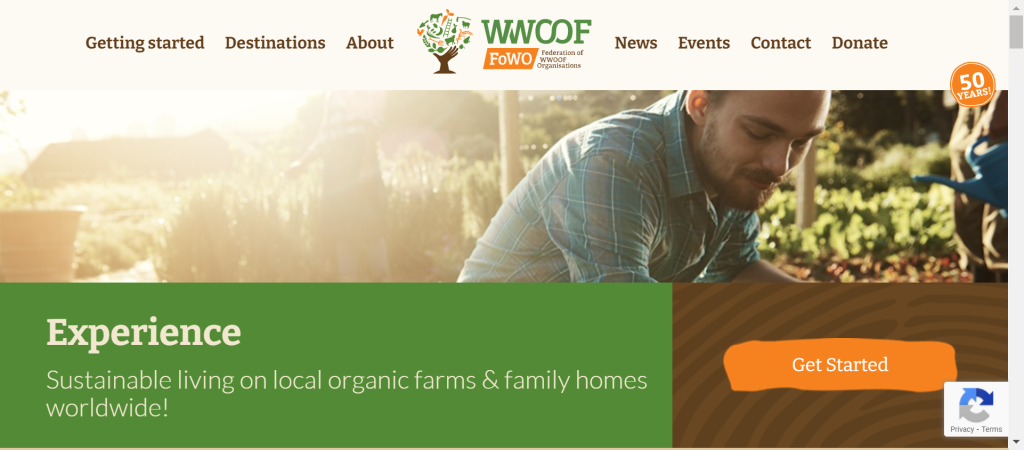 If you're looking for a way to travel the world without breaking the bank, WWOOFing (World Wide Opportunities On Organic Farms) could be the perfect solution.
By signing up for a local membership in your desired country, you can work a few hours each day at organic farms in exchange for food and accommodation. Activities range from fruit picking and cheese-making to painting and beekeeping.
Before you go…
You may have thought volunteering your time abroad means you don't have to worry about money – after all, it's free! But if an emergency strikes, sending or receiving funds overseas can suddenly become a spicy situation.
Fluctuating foreign exchange rates and hefty fees can leave you feeling like your wallet has been sliced up like a pepperoni pizza. Have no fear though, because Instarem is here! Their low fees and great exchange rates turn transfers into a piece of pie, meaning you can carry on with your volunteer abroad programs without fretting about the financials.
Try Instarem for your next transfer by downloading the app or sign up here.
Bon appetite!
*Disclaimer: This article is intended for informational purposes only. All details are accurate at the time of publishing. Instarem has no affiliation or relationship with products or vendors mentioned.