Moving to Australia? Here's how to import your pets
Moving to Australia? Congratulations!
If you're planning to move to Australia, you probably have all the information you need with respect to visa, housing, culture, food, standard and cost of living, etc.
You Might Also Like To Read: An Expat's Guide To Cost Of Living In Australia
But what about pets?
Can you take your pets with you to Australia as well?
The answer is yes, you can!
If you adore your pet and don't want to leave them behind, you are not alone. Plenty of people move to Australia along with their pets and you can too. All you need to do is educate yourself on what needs to be done, have a plan, get all the paperwork in order and put aside some money for moving your pet to Australia.
In this article, we will give you all the information you might need to take your pet to Australia. We assume that you have already investigated the medical, social and climate-related aspects of the move and have found them favourable for your pet.
Pets in Australia – what you & your pet can look forward to
Australia is a very pet-friendly country. Take a look at the pet profile of this nation: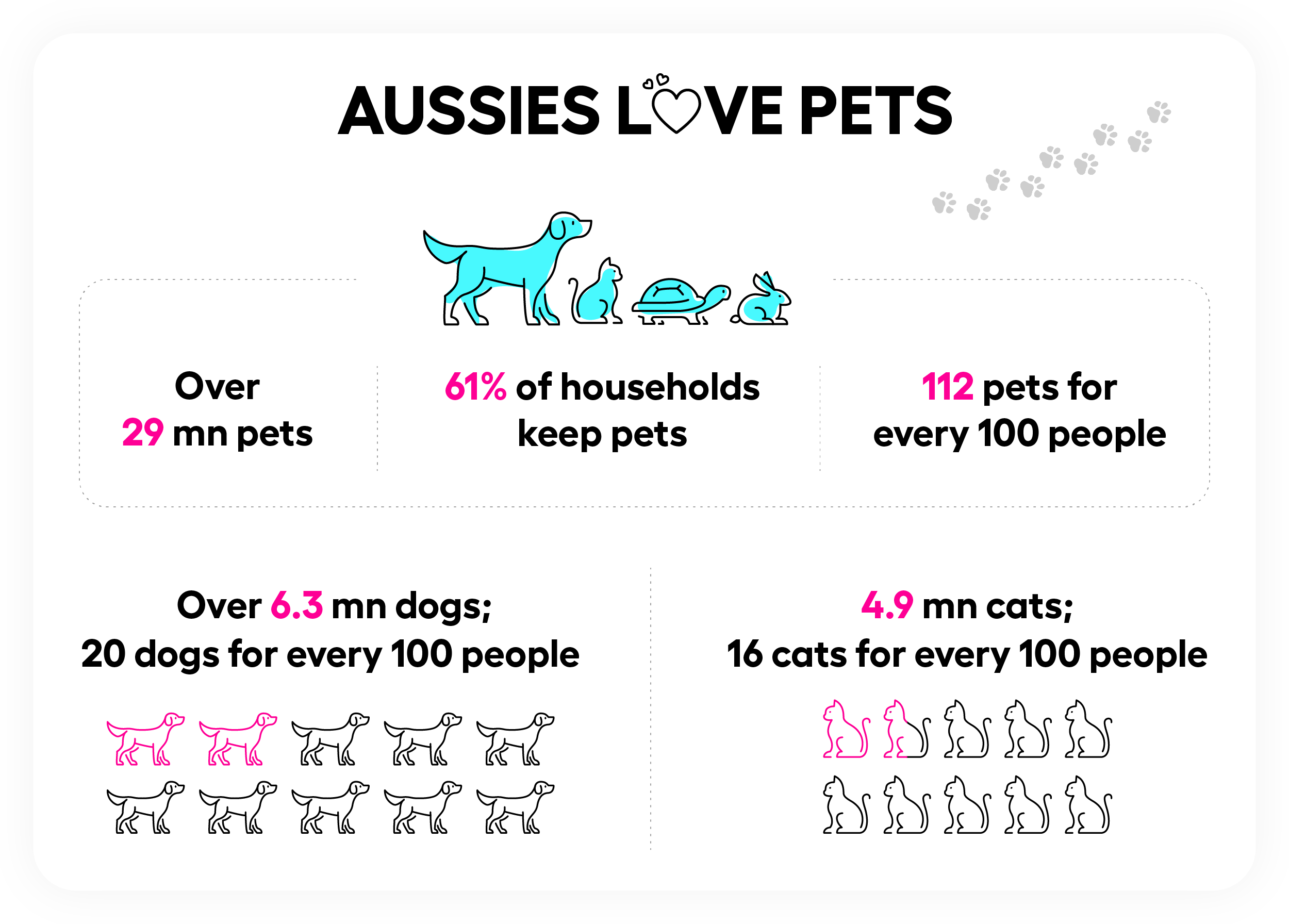 Rural Australia has plenty of wide open spaces for domesticated animals. But even if you're moving to a large city like Sydney, Melbourne or Perth, you don't have to worry about the comfort and happiness of your pets. In Australia, dogs are allowed – and even welcomed – in most public places such as parks and beaches. All other places where dogs are either not allowed or must be kept on a leash by their owners, display clearly marked signages that indicate these rules.
If you are moving to Australia with a pet, you must comply with certain rules and regulations put in place by the Department of Agriculture and Water Resources, before you can be reunited with your pet.
Importing pets into Australia – know the basics
The import conditions imposed by the Department of Agriculture and Fisheries and Forestry depend on the category of exporting country as well the type and breed of pet.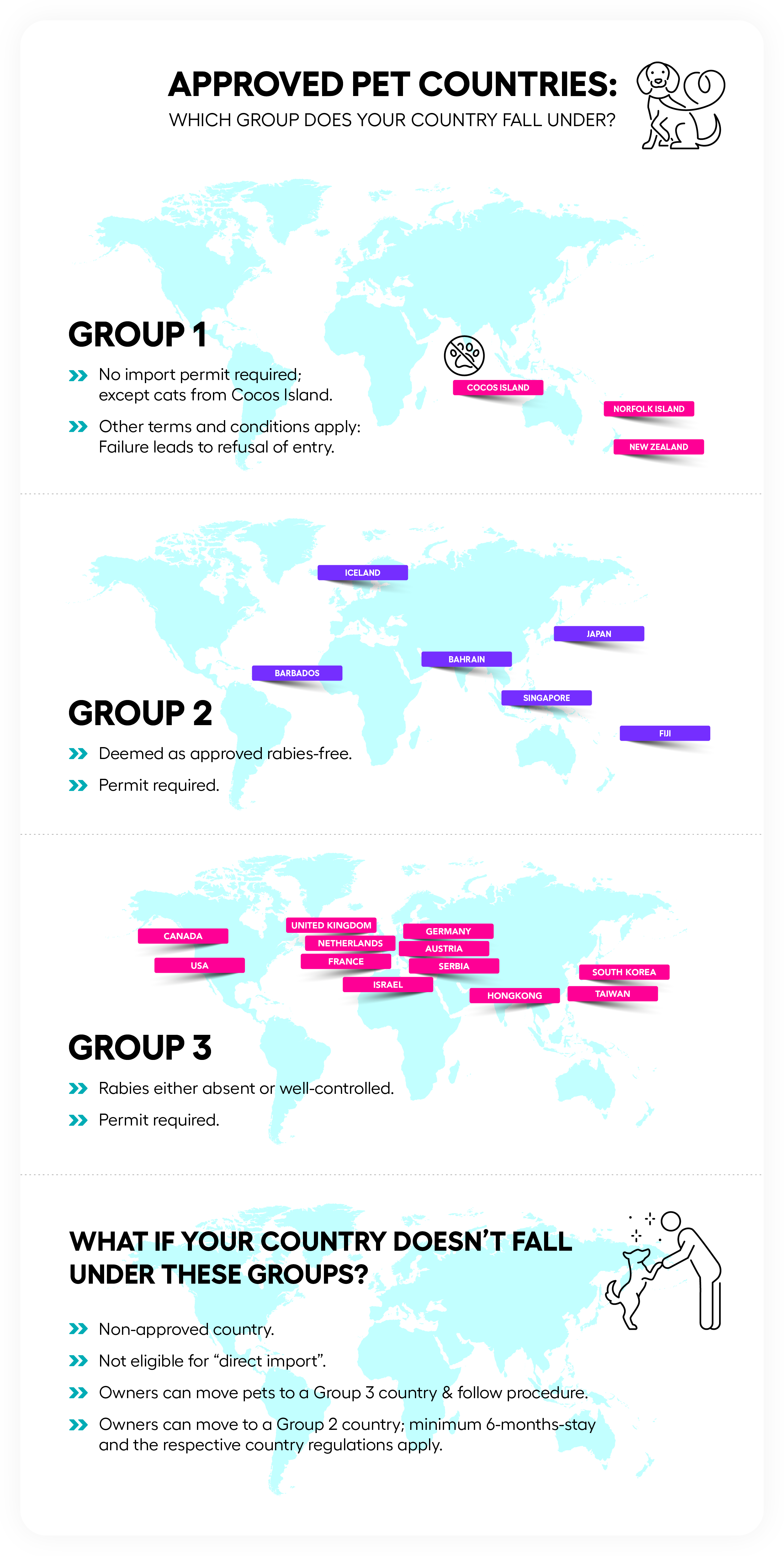 Countries stated above are not conclusive for each group. For more information, refer to the Biosecurity and Trade of Australian Government Department of Agriculture, Fisheries and Forestry.
All exporting countries fall into one of three groups and therefore the country you are moving from determines how easy or difficult it could be for you to take your pets to Australia.
In any case, pets coming to Australia must be accompanied by a valid import permit and must spend a minimum of 10 days at an official post-entry quarantine facility. Pet owners must note that their dog or cat must be granted an import permit before the pets arrive in Australia and enter quarantine.
The conditions for importing dogs of assistance are slightly different from those of regular pet dogs, although these dogs also require an import permit. First, the importer must provide evidence that the dog is trained to assist a disabled person and that it meets the standards of hygiene and behaviour required of an animal in a public place. Then, supporting documentation must be submitted, including a declaration form and training form for the dog and a medical history form for its disabled owner (handler).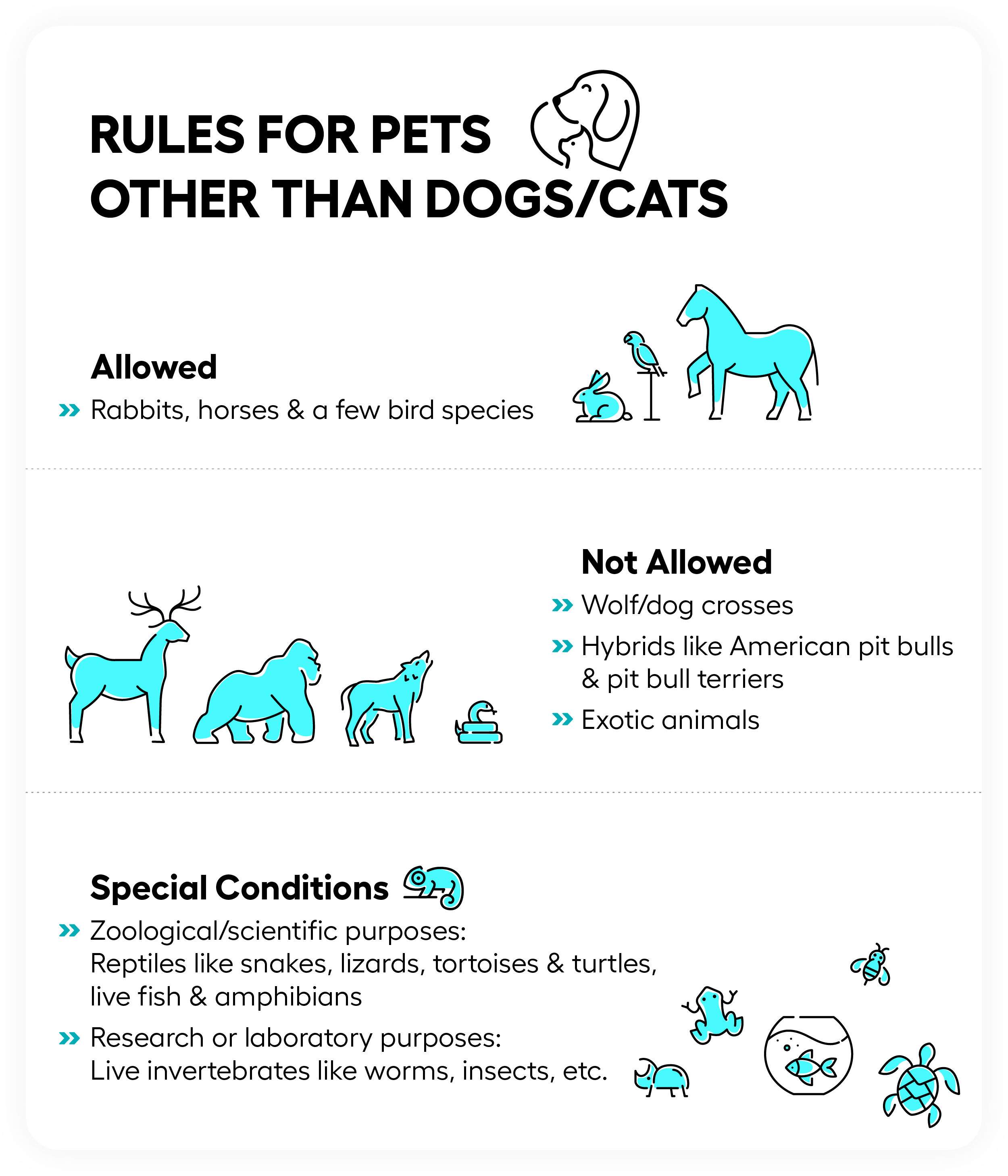 Since not all exotic animals are banned, owners can check the eligibility criteria and permissions through the Live Animals and Reproductive Material or the Biosecurity Import Conditions System (BICON) web pages of the Department of Agriculture and Water Resources.
Now that you know the basics, check out the next section for details of the regulations and documentation that you must complete before and after you and your pet arrive in Australia.
Overview of pet import regulations & recommended timelines
If you're a dog or cat owner, you must be aware of the various requirements for importing your pet into Australia. The process of moving your pet takes 2-3 months, excluding the additional 10 days for quarantine in Australia. Take a look at the image below for the mandatory formalities:

In the final section, we provide some useful tips on how you can make the move to Australia easier and less painful for your beloved pet.
Useful tips to transport your pet to Australia
Check if your pet is allowed to be imported into Australia in the first place. Consider its breed and your originating country before starting the import process.
Space in the livestock holds of most aircraft is limited so make a booking for your pet well in advance. Ensure that your pet travels in an International Air Transport Association (IATA)-approved air kennel.
Try to get your pet acclimatised to the kennel before the flight so it can feel more secure during the flight. Avoid sedatives, unless recommended by a licensed vet.
Most import permit applications take 10 to 20 days to be assessed but can take longer during busy seasons (such as Christmas) so it's best to apply for a permit as early as possible.
Before beginning the application process for the import permit, have all important documentation (rabies vaccination certificate, Rabies Antibody Titer Test results, etc.) ready for upload onto the BICON (Biosecurity Import Conditions) System.
Make quarantine reservations at the Mickleham facility in Melbourne as soon as you receive your pet's import permit. Spots are limited and can fill up quickly, and having an import permit does not guarantee space availability, so the earlier you apply for a spot, the better.
If your pet has special dietary or medical needs, provide this information on your pet's import permit application. You must also source your pet's special food in Australia and have it posted to the quarantine facility along with a veterinary letter.
Hopefully, we have covered everything that you need to know. In case, we have missed out on any bit of info, do visit the International Pet and Animal Transportation Association's website.
Before you go
Making the big move to Australia?
Besides thinking about moving your pets, there's one important thing you need to take care of: arranging your finances.
After all, you will be receiving and sending money to your home country. The good news is that there are several ways to send money, including online money transfer services like Instarem.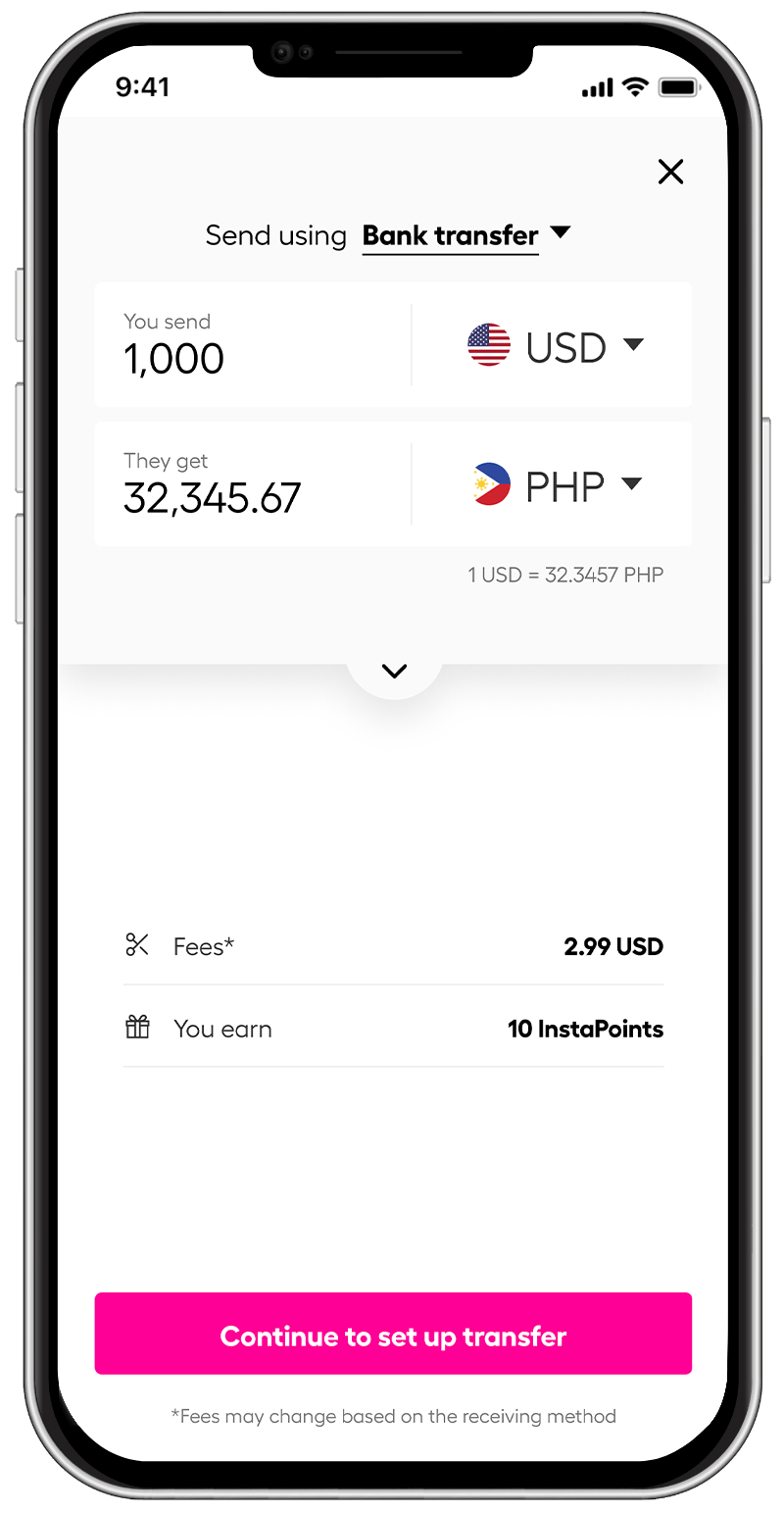 To avoid losing out on overseas money transfers, it is always a wise move to select a money transfer service provider that allows you to send money at a reasonable cost and with no hidden charges.
Plus, you can sign up for Instarem's rate watch and send money when the tide is in your favour.
Try Instarem for your next transfer.
Download the app or sign up here.
*rates are for display purposes only.
Disclaimer: This article is intended for informational purposes only. All details are accurate at the time of publishing. Instarem has no affiliation or relationship with products or vendors mentioned.