Refer Instarem to your audience and earn rewards. There is no limit to how much you can earn. 
Earn rewards with every referral
Join the Instarem Partner Programme and earn when we do. Get paid when your referrals use Instarem. There's no cap on your earning limit!
Sign up reward
Earn whenever you refer a successful sign up
Transaction reward
Earn when your referral makes the first transaction
Sharing is caring. We know how satisfying it is when your good recommendation is appreciated.
Get started today and earn rewards!
Bloggers and writers
Comparison sites
Media networks (news and podcasts)
Content creators
Influencers
Group or community owners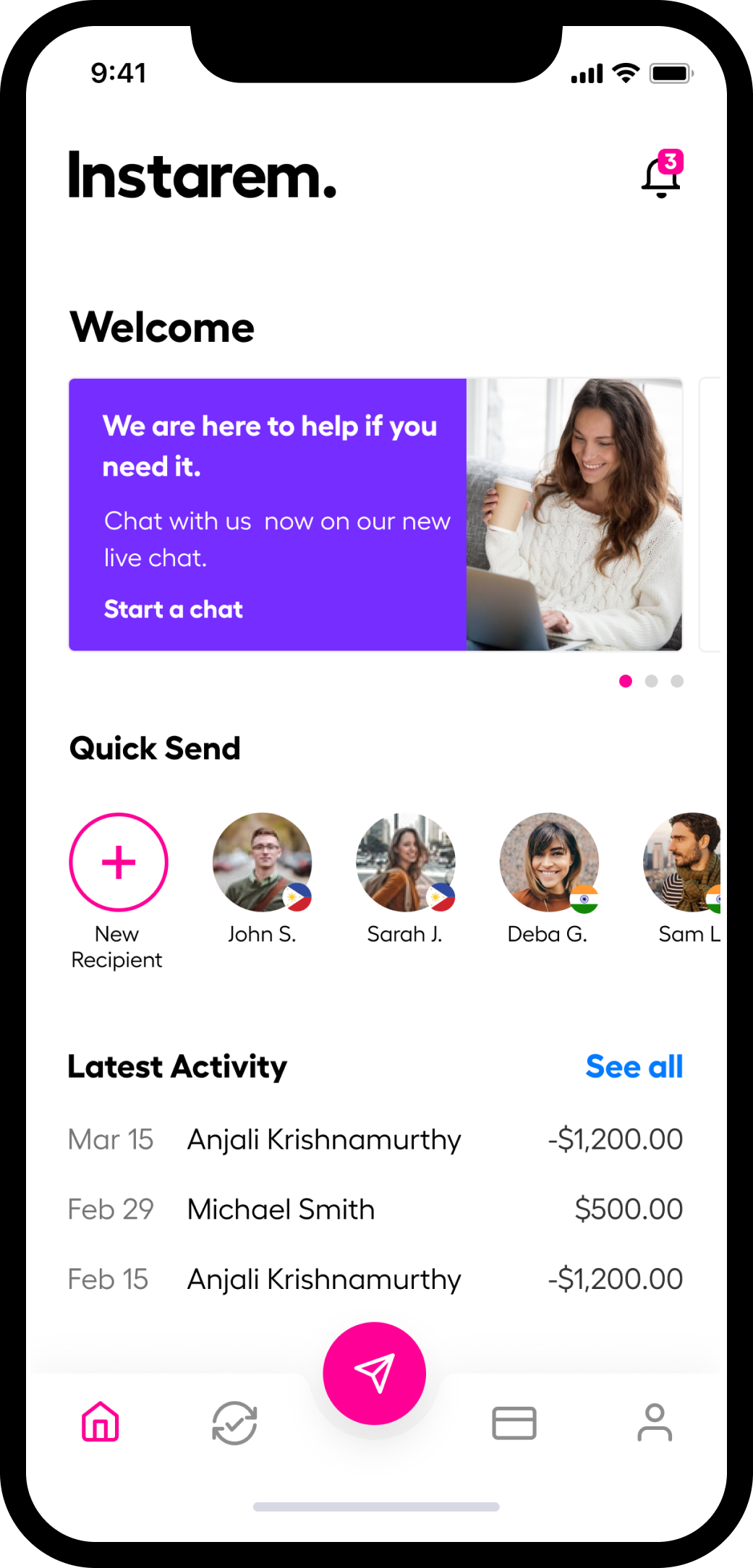 Join the program
Promote Instarem to your audience
Share how Instarem can benefit your audience. You will have access to tips on best promotion strategies once you join.
Earn rewards
Earn on every sign up and transaction your audience makes. You can withdraw your commission monthly!
Ready to join our partner programme?
We want to work with like-minded people with a passion for global finance. Join us as a partner today.
Instarem is on a mission to make money simple for everyone with a smarter, faster and more affordable way to move money across borders.
Read the latest articles, on everything money, expat life and business.
Frequently Asked Questions (FAQ)
Why should I partner with Instarem?
By becoming our affiliate partner, you will earn while recommending a cheaper way to send, spend and receive money internationally. Instarem has already helped over 5 billion people and businesses save money on international transfers and we need you to help bring these value to more people.
When you become our partner, you will get access to a dashboard where you can monitor your referral activity. You can also get access to Instarem's resources and APIs which can be used to enrich your content. Get exclusive opportunities to collaborate with us and join the mission to make money simple for your customers, readers and network.
What do you pay commission for?
We pay commission for whenever you refer a new user to us, and when the user transacts. A new user is someone who does not have a pre-existing Instarem account and completes a successful transaction. We have a 30 day cookie window, so the user doesn't necessarily have to make the transaction immediately upon sign up.
Commission rates can be reviewed once we have enough data on the performance of the partnership and a better understanding of the life-time value of the new users you refer. If the users you drive contribute higher value than the minimum Cost Per Acquisition, it will be re-assessed.
If you have a proposal to drive a large number of new, paying customers (over 50 a month) or high transaction volumes as our partner, please get in touch with our team to discuss the details at [email protected]
How do commission payouts work?
We payout earned commission for the month on the 25th of the next month, so you receive a payment approximately every 30 days.
What promotion methods are allowed?
We welcome everyone to our programme, whether you have a website, blog, company, a prominent social media account or just a good network. You can promote Instarem by writing articles about our products, including Instarem mentions in your other articles, YouTube videos, or on social media. If you have a company, you can also recommend Instarem to your customers and employees. If you accept bank transfers as part of your payment flow – feel free to recommend your customers to use Instarem to pay you (include your partner link so you get paid when they do that!).
What if I already have a Partnerize account?
If you already have a Partnerize account and would like to join our affiliate program, please drop an email with your Partnerize username at [email protected]. We will then add your account to our network and provide you with a tracking link.
I want to promote different products you offer – how can I do that?
You have one universal link which you can use to promote all our products for both personal and business users. The link will automatically detect which account the user signed up for and give you the correct commission.
Can I promote Instarem in any country?
Yes, you can promote Instarem to people in any country. Just make sure you are promoting services that we support.
Here you can find out which countries our users can send money to and from.