How to go on a 4D3N holiday to Bangkok, Thailand for SGD700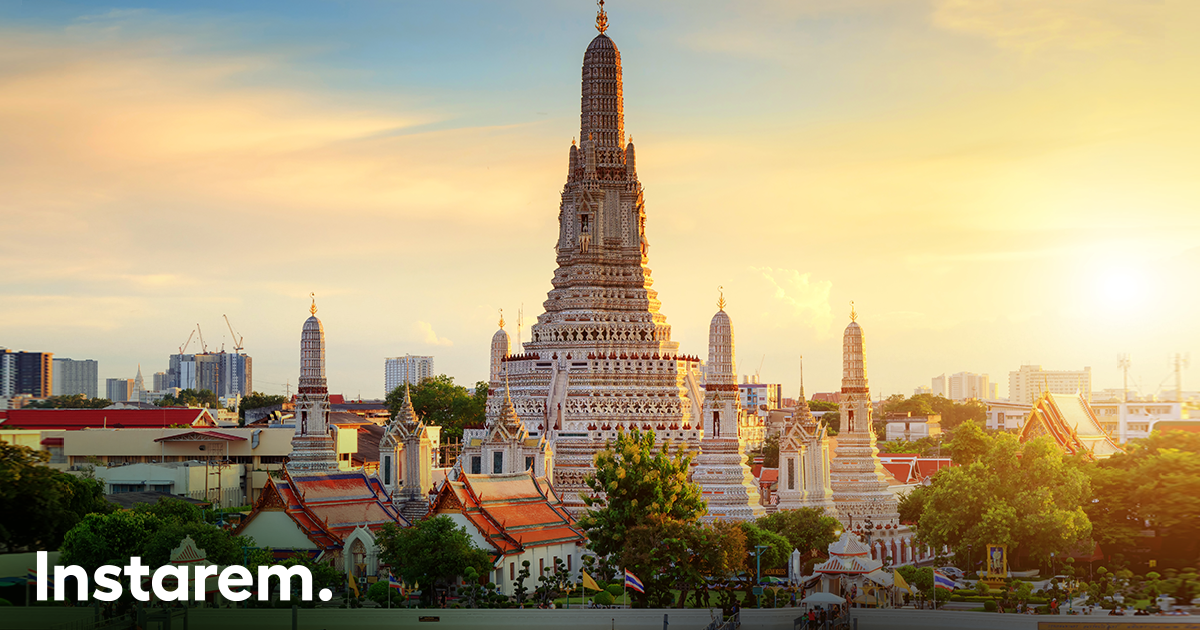 If you're considering a trip to Europe, you might want to reconsider – airfare and hotel prices are skyrocketing as the holidays approach.
Asia is a much better bet, and Bangkok, Thailand is a great choice if you're looking for an exotic city with a temperate climate.
In this blog post, we will give you some tips on how to use your amaze card to plan your Bangkok trip and save time and cost while you're at it.
Budget for a 4D3N Bangkok trip (from Singapore)
| | |
| --- | --- |
| Expense | Price |
| Return Airfare from Singapore to Bangkok | $200 |
| Accommodation | $225 |
| Transportation | $60 |
| Mobile Data | $12 |
| Food | $200 |
| Grand total | $697 |
Flights to Bangkok
The first step to any trip is to book your flights unless you're one of those people who enjoys the spontaneity of just showing up at an airport and buying a ticket for the next available flight. If that's your style, more power to you.
For the rest of us mere mortals, a little planning ahead is usually required. And that planning invariably starts with finding the best deal on airfare.
In general, your flight from Singapore to Bangkok should not cost more than SGD500 for a round trip. There are a lot of budget airlines out there but sometimes the price point difference between full fledge airlines like Thai airways and Scoot (or Jetstar) is only a few dollars.
Average Cost: SGD200
Hotels in Bangkok
Bangkok has no shortage of hotels and Airbnb. But if you're looking for comfort and to avoid awkward small talk with your host, then hotels are still your best bet. And one of the most convenient places to stay in Bangkok is at Pratunam.
Pratunam is centrally located and close to many of the city's attractions. Plus, there are plenty of eateries and shops in the area, so you won't have to go far to find something to eat or drink. And if you need a break from the hustle and bustle of the city, then you can always retreat to your hotel room for some peace and quiet.
With hotel prices starting at just SGD23 per night, it's easy to save your money for other things – like shopping! Big-name hotels like Novotel Bangkok Platinum and Amari Watergate Bangkok will set you back SGD526 for three nights, or around SGD175 per night.
Don't forget to use your amaze card deals to get a 12% discount on your hotels!
Per pax cost: SGD225 (SGD75 per person per night for 3 nights)
Transportation within Bangkok
There are a few things you should know about getting around the city. The Mass Rapid Transit (MRT) and Bangkok Mass Transit System (BTS Skytrain) are both excellent options for efficient and affordable travel.
A one-day pass on the BTS will cost you around 140 Baht, but if you're only making a single journey, 44 Baht should suffice. The MRT is slightly cheaper, with an average price of 40 Baht per trip. Of course, these prices may vary depending on the distance you're traveling.
If you're feeling adventurous, you could always try your luck with a Tuktuk or Taxi. Prices can be all over the place with these options. It takes some negotiation with the driver before getting in.
If you'd rather not risk it, Grab is always a reliable option. Just remember to use your amaze card as a payment option to offset the forex cost that comes with it.
Whichever way you choose to get around, Bangkok is sure to offer an unforgettable experience.
Cost: SGD60 (300 Baht per day)
Mobile data in Bangkok
One thing's for sure – you'll need data. Lots of it. The city is a labyrinth of tiny streets and alleys, and unless you want to get lost, you'll need Google Maps to guide you around.
Thankfully, there's no shortage of options when it comes to buying data in Bangkok. The average price for 15GB of data is about 299 Baht (SGD11.38), which isn't too bad.
In general, most would get off their flight and run straight to the mobile data counter and join the super long queue to get their hands on a Thai sim card.
But hey, before you join the super long queue at the mobile data counter, consider getting an eSIM from Airalo. amaze cardholders can enjoy 15% off on all eSIMs.
For unlimited data for 8 days, it only costs USD8.42 after the discount—which is about the same price as what you'd pay at the airport. Plus, you'll save yourself a whole lot of time.
Cost: SGD 11.38
Thai food in Bangkok
Yes, we get it.
You can take Singaporeans out of Singapore, but you can't take the cafe-hopping spirit out of Singaporeans.
There's a cafe for every type of person, from animal lovers to aspiring Instagrammers. Animal cafes are especially popular, with options ranging from husky cafes to cat cafes. And for those who like their coffee with a side of cuteness, there are also character cafes featuring beloved characters like Hello Kitty and Moomin.
The expected damage is about 300 Baht – 600 Baht.
Want to save some money on food while you're in Bangkok? Skip the cafes and head straight for the street vendors. Thai food is delicious and usually only costs between 90 Baht – 200 Baht per meal. Plus, it's a great way to get a taste of the local culture.
If you're still hungry after your meal, Big C Supercenter near CentralWorld is a great place to get snacks or authentic Thai instant noodles. Just don't forget to bring cash, as most vendors don't accept credit cards.
Estimated cost: $110
Spa and attractions in Bangkok
Bangkok is a shopper's paradise, and for Singaporeans, it is the perfect place to get the best shopping experience.
For those looking for high-end brands and designer goods, Siam Paragon is a perfect choice. Terminal 21 appeals to those who want a more diverse range of stores, while MBK Center is known for its cheap but good quality products.
Platinum Fashion Mall is a must-visit for anyone interested in Bangkok's thriving fashion scene, while Central World is perfect for those who want a one-stop shop for all their shopping needs.
With so many options available, there is sure to be a Bangkok shopping mall that meets your needs and budget.
While shopping in Bangkok can be an enjoyable experience, sometimes, all that shopping can really wear you out.
That's when you need a good Thai massage to rub all the tension away. And if you're looking for a great place to get a massage, Singaporeans love choosing Health Land Spa. It only costs 600 Baht for a Thai massage (120 minutes), and 400 Baht for a foot massage (60 minutes).
Plus, you can use the KKday app to book your spa experience. Not only does KKday offer Health Land Spa, but you also get other choices as well. And to make your booking even more affordable, use amaze and you get 7% off on the KKday App.
PS: If shopping and spa isn't your cup of tea, you can also use KKday app to book Bangkok attractions as well.
And pay your way with amaze…
Pair up with any Mastercard bank cards or top up your amaze wallet and you get to:
Fantastic FX rates with every global purchase.
Earn InstaPoints on FX spends and redeem them as cashback or discounts on overseas money transfers.
Sign up via the Instarem app and get your virtual card instantly! It's totally free.
*TnCs apply
Disclaimer: This article is intended for informational purposes only. All details are accurate at the time of publishing. Instarem has no affiliation or relationship with the products or vendors mentioned.