Mother's Day 2023: What to gift your mom beyond flowers and chocolates
Moms are simply the best, but let's be honest, decoding what they like or dislike isn't a skill most of us are born with! Navigating Mother's Day and living up to mom's expectations can seem like a tall order.
If you're anything like us and your mom's preferred language is the unspoken one of motherly intuition and subtle hints, fear not! There are plenty of amazing gifting ideas that are bound to make her smile, and if you need a hand, we'll help you make the special lady in your life feel loved and appreciated.
Whether you're looking at gifting your mother or the mother of your child, our Mother's Day guide has got you covered.
When is Mother's Day 2023?
Wondering what day is Mother's Day this year? One thing's for sure, it always falls on a Sunday. Mother's Day has been celebrated on a Sunday since 1914 when President Woodrow Wilson signed it into law and declared that the occasion should be held on the second Sunday of May.
This year, it falls on the 14th of May.
Children around the world owe thanks to Anna Marie Jarvis as well, who originated the special day to honour her own mother, writing letters to Congress to make this day official.
It's easy to get confused and think that Mother's Day is celebrated on the same day around the world, but nope. Sometimes it falls on a different day in different countries, so you may want to check ahead of time.
How to get a thoughtful yet unconventional gift for Mother's Day?
Sure, carnations and brunch make for pretty standard Mother's Day gifts, but how much do they mean to her, really? You'd rather skip the high-priced items and gift her something more meaningful and memorable.
Here are some ideas…
Clean up the house
Cleaning the house for Mother's Day is more than just a chore; it's a way of celebrating and thanking her for all she does for you. Showing mom that you honour her hard work with a deep cleaning of the house is a great way to celebrate her.
Now, if your mom has standards when it comes to cleaning, don't air out your grievances. Just pull up your socks and follow her rules. It's all about making her feel loved and cared for, remember?
Gift her some R&R
Being a mom can be tough. There's always something that needs to be done. Add to that, the pesky guilt of not doing enough, which leads to her taking on a lot more than she can and should. If your mom is always on the go, take over her duties for the day and set up a plan for her to get some R&R (rest and recuperation). Massage appointments, spending an afternoon with her friends, or watching movies without interference – whatever helps her hit the reset button.
Believe us, she will value a rest day to catch up on her 'me time' above anything else.
Spend quality time
We sometimes forget that our moms need more than just a day to appreciate them. They want quality time spent together, whether taking a leisurely walk in the park or having a picnic at the beach with her. If you truly want to show your mother how much you adore her, make sure you clear your calendar, spend quality time and have a heart-to-heart conversation with her.
Cook for her
Cooking a special meal for your mother on Mother's Day is a great gift in itself. Whether you're a pro in the kitchen or just starting out with the basics, she will appreciate the gesture. Plan your menu depending on her favourite cuisine and whip up some delicious curry, a moreish pasta, or something as simple as French toast or summer salad. Whatever you cook, make sure you don't leave the kitchen looking like a crime scene afterwards. If nothing else, at least your mom will be proud that her cleaning tips paid off!
Give her a call
If you live away from mom, there are still ways in which you can make her feel special on Mother's Day. Go ahead and set up a video call with her for all your ramblings or perhaps even surprise her with poetry or a song! There is plenty of free video calling apps available, so no matter where you are, you can feel a bit closer to your mother.
Haven't caught up with her in a while and require some conversation starters?
It might be useful to pick some topics beforehand such as upcoming holidays, current favourite books or TV shows, or expert tips to keep the kitchen looking spick and span!
Prefer conventional gifting options?
While no one likes playing it safe, when it comes to Mother's Day, sometimes going with the standard fare is easier. Here are some gift recommendations that might just earn you a hug or two from her!
Flowers
You know it's Mother's Day when you head to the florist and feel like you're buying a private jet – prices are sky-high! But if you're still planning on getting your mother some flowers this Mother's Day, there are a few things you should keep in mind. For example, carnations have a special significance on this day. According to Anna Jarvis, red carnations symbolise that one's mother is alive and white ones indicate that she had passed away. We suggest you pick roses or carnations in shades of reds, pinks and yellows to brighten up the occasion.
Mother's Day card
If you're looking for a less expensive yet equally creative Mother's Day gift idea, look no further than a greeting card. You can get a store-bought one or better still, make a card yourself. Pinterest is an endless source of inspiration in this regard and all it takes is a few clicks to realise that there are far more unique and crafty ideas out there than just getting your mom a generic store-bought card.
Add an equally creative message on your card, such as, "Mom, you're worth more than I can afford!" and get her laughing while keeping your wallet intact. Don't let the fear of breaking the bank keep you from showing your appreciation. Big or small, any gift you give with all your heart will be cherished by her.
Before you go…
Being an expat is already hard enough, but throw in the fact that Mother's Day is coming and you can't be there for your mom. You want to show her some love but you can't fly back home, and a digital greeting card just won't cut it! Why not do the next best thing – send her money with Instarem!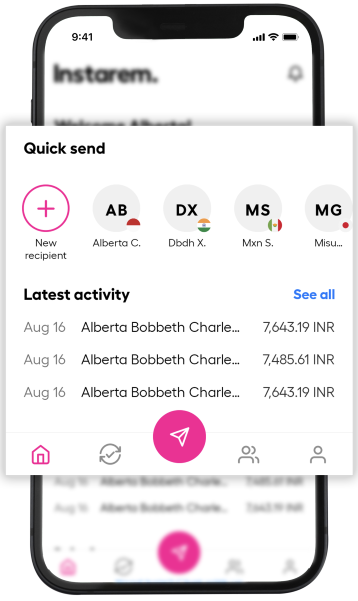 Instarem helps you send money abroad to over 60 countries. If you're looking for an easy and affordable way to send money as a gift to your mom, Instarem is the perfect solution.
With our simple platform, you can make a transfer in just a few clicks. Plus, we offer competitive rates and low fees so you can get the most out of your transfer.
Download the app or sign up on the web and see how easy it is to send money with Instarem.
*Disclaimer: This article is intended for informational purposes only. All details are accurate at the time of publishing. Instarem has no affiliation or relationship with products or vendors mentioned.